If you're new here, you may want to Subscribe to our Tokio Hotel Headliner, and get daily FREE updates on:

Tokio Hotel News, Tokio Hotel Gossip, Tokio Hotel Goodies
Tokio Hotel Videos, Tokio Hotel Pictures, Tokio Hotel Merchandise

And much more Daily Tokio Hotel stuff!

All mailed directly to your email address. Click Here To Subscribe!.
Post by www.tokiohotelrocks.com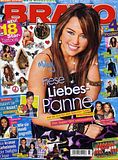 Separated after birth?
Relatives? Looks like! Bill (19) is styled like the "Star Wars"-badguy Darth Vader for the first promotion-picture of the Tokio-Hotel-album "Humanoid" (release in October). Only the helmet is missing…
At the left side of the Bill-pic is written:
Hopefully Bill doesn`t sing like Darth Vader is breathing under his helmet.