If you're new here, you may want to Subscribe to our Tokio Hotel Headliner, and get daily FREE updates on:

Tokio Hotel News, Tokio Hotel Gossip, Tokio Hotel Goodies
Tokio Hotel Videos, Tokio Hotel Pictures, Tokio Hotel Merchandise

And much more Daily Tokio Hotel stuff!

All mailed directly to your email address. Click Here To Subscribe!.
Post by www.tokiohotelrocks.com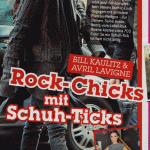 Rocker chicks with shoe passion
What is the common in the Tokio Hotel's frontman, Bill Kaulitz (20) and the rock-girl, Avril Lavigne (25)? Both of them are shoe fools! Avril left nearly 480 euros at the Desinger, Chanel, for some pair of sneakers. At the same time they looks punk and noble! Bill completes his gothic-style with chic contrast plateau wedges – for women. His ankle boots by the designer, Rick Owens, was nearly 700 euros! Well, shoe passion is just not cheap…
WOOF! Tokio Hotel exclusive!
Bill and Tom showed BRAVO their best friend…
How cute! We see Bill and Tom Kaulitz (both 20) from Tokio Hotel, walking their dog in their hometown Hamburg. Suddenly Bill knees in front of his German-Shorthair and cuddled him. The dog starts waggling its tail…
Because beside a spectacular Fire-Performance, Tokio Hotel show – for the first time – in their new Video "World Behind My Wall" (Release: 08.01.2010) some private scenes: "The song is very personal", Tom explains. "It's about us not being able to simply go out on the street and that we're living a life behind walls."
So it's good that their best friend needs a lot of room to run around. "Taking walks with our 4 dogs is great and a lot of fun", says Bill. "We love them so much." By the way, the boys saved all of their dogs from the shelter – their german-shorthair a year ago. "He's so sweet", Bill gushes.
The Tokio Hotel Twins don't want to reveal the names of their dogs. The boys are afraid of too many people calling their names – or even luring them away. Both of them try to take their dogs on tour as often they can. "Sadly, it doesn't always work." Then their mother Simone takes care of their animals. Tom: "After all, they're a part of our family too…"