If you're new here, you may want to Subscribe to our Tokio Hotel Headliner, and get daily FREE updates on:

Tokio Hotel News, Tokio Hotel Gossip, Tokio Hotel Goodies
Tokio Hotel Videos, Tokio Hotel Pictures, Tokio Hotel Merchandise

And much more Daily Tokio Hotel stuff!

All mailed directly to your email address. Click Here To Subscribe!.
Post by www.tokiohotelrocks.com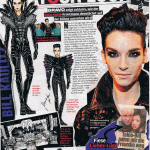 Bill's crazy tour look!
Exclusively Bravo shows, how Tokio Hotel's frontman will look on the stage soon!
In a few days and finally begins: Tokio Hotel live on stage! On 22nd, February will start the huge "Humanoid"-Europe Tour in Luxemburg. On 26th February, Bill, Tom (both 20), Gustav (21) and Georg (22) will play in Oberhausen, and on 28th February in Hamburg. And what's that BRAVO have already known: Bill will go the stage in an amazing, spacey outfit – desinged by the fashion label, DSquared2. In addition, the guys will bring to the stage their crazy elekto sound from their latest album "Humanoid" – it will be the first time when you hear synthetisator in a TH-Show. Mega-Surprise: Tom will not play only guitar, but he will perform with piano with his twin brother! Altogether the Band will have 32 concerts in 19 countries.
Madness: 11 truck will transport the stage and the equipments. The crew (50 employees including 4 chef! ) and Tokio Hotel travel by 6 buses – 17.000 miles over Europe!
Nasty love lie
Excitement around Bill! The 21 years old Dennis K. told to "Bild"-newspaper? "Bill stole my girlfriend!" His Pinky (21), cemetery gardener from Thüringen, allegedly now together with Tokio Hotel's frontman. Pardon? However, behind all this, there is just a mucker revange: Dennis was disappointed becaus Pinky left him, and therefore he tell this lie to the world. *Bill's fans breathe easy!