If you're new here, you may want to Subscribe to our Tokio Hotel Headliner, and get daily FREE updates on:

Tokio Hotel News, Tokio Hotel Gossip, Tokio Hotel Goodies
Tokio Hotel Videos, Tokio Hotel Pictures, Tokio Hotel Merchandise

And much more Daily Tokio Hotel stuff!

All mailed directly to your email address. Click Here To Subscribe!.
Post by www.tokiohotelrocks.com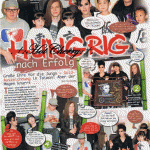 Hungry for success
Great honor for the boys – Gold award/record in Taiwan! But the stomach grumles…
Taiwan – An island before China's coast, 11 hour flight from Germany. Also here, our TH boys are mega stars! A few days ago, the band from Magdeburg got gold record for their album, "Humanoid". Obvious: That's why Bill, Tom (both 20), Gustav (21), and Georg (23) went there personally. But what's the use of the most beautiful award, when the stomach grumles so loudly?
1. Picture: Smiling for the groupphoto – but their thoughts are somewhere else
GUSTAV: I am hungry!
BILL: Thank you for the sweet fans! What's a nice welcome!
BOY #1: Welcome in Taiwan!
TOM: Na hello! At the rear there is a really hot Asian girl!
BOY #2: But why they called themselves TOKIO Hotel?! It is in Japan! Our capitalcity is Taipei!
2. Picture: Wow! A nice awards – but Gustav not really happy…
GUSTAV: When we get something to eat finally?
GEORG: This part will hang in my livingroom!
3. Picture: A hour later: The ceremony have drawn really…
BILL: How long does it go on? I have to quickly add some more make-up
TOM: This continues and continues. I would have already been with the hot girl in our Taipei-Hotel
4. Picture: He escaped! Finally Gustav found something to eat! Enjoy your meal!
GUSTAV: Finally!!!! But what is it? Chicken? Dog? No matter…
GEORG: I hope he left the plate at least this time.
5. Picture: It is really good! That's why all want to try it. And Gustav? He looks nervous again
GUSTAV: Oh… Now the others want it, too. That was my food!
BILL: Aaaahh! It is hot! My tongue burned!
TOM: Hey, Brother. You mean, that you can't sing anymore?
GIRL: Tell me, all people in Germany are so crazy like they?!