If you're new here, you may want to Subscribe to our Tokio Hotel Headliner, and get daily FREE updates on:

Tokio Hotel News, Tokio Hotel Gossip, Tokio Hotel Goodies
Tokio Hotel Videos, Tokio Hotel Pictures, Tokio Hotel Merchandise

And much more Daily Tokio Hotel stuff!

All mailed directly to your email address. Click Here To Subscribe!.
Post by www.tokiohotelrocks.com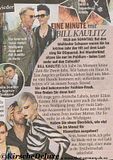 A minute with Bill Kaulitz
BILD am Sonntag: At the fashion shows in Milan you were the hit on the runway for DSquared. At the Wunderkind fashion show you were only among the audience – don't want to be on the catwalk anymore?
Bill Kaulitz: At the moment I have no time for a second job. We found a house in Los Angeles, we're going to move soon. My four dogs are coming with me; furthermore we're working on new songs. Stress!
You're a professing fashion-freak. What is hot in your opinion?
Bill Kaulitz: I like to wear german labels, today Kilian Kerner. I also liked the clothes of Wolfgang Joop. But my favourite accessory is a necklace with a picture of my mother. The family is the most important thing anyway.
Do you have an overview how much you spend on clothes per month?
Bill Kaulitz: No, better not, I spend too much money on fashion. But anyway, someone gotta boost the textile economy!